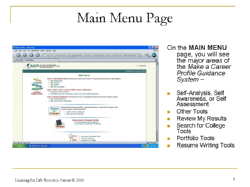 The
My Career Profile Guidance System
is an
ON-LINE Holland career self assessment test
that provides information on
interests, values, skills, personalities, Holland Codes, 1200+ occupations, and 6000 schools
.
The
My Career Profile Guidance System
comes with a -
My Interests Inventory
My Values Inventory
My Skills Inventory
My Personality Inventory
Research a Career Tool
Use the Research a Career database to find information on 1200+ occupations. Each Occupational List provides information on -
Overview
Job duties
Skills
Values
Outlook
Earnings
Advancement
Working Conditions
Interest (Holland Codes) Scores
Areas of Study
Training or Educational Levels
School Search Tools
School Tool
The Interests, Skills, Values, and Personality Inventories generate School Lists. The School Tool obtains school from a database of 6000+ post-secondary institutions. The School Tool searches for schools according to the following criteria -
Name of School
Location of School
Region in the USA
Type of School
Size and Cost
Major Areas of Study
Get more information about the MCP Profile -
http://www.hollandcodes.com/my_career_profile.html
.
Schools, agencies, or organizations, visit
http://www.hollandcodes.com/MCP_Bulk.html
.