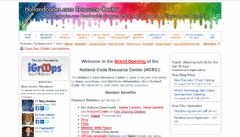 Hollandcodes.com is maximizing our use of social media tools.
Social media tools are mobile and web technologies, e.g.

Facebook, Linkedin,

and

Twitter

.
Media technology promotes social networking, using already existing contacts to meet new people as potential social or business links.
According to Michael Wu, Ph.D., two major types of media tools:
Media Technology helps us -
Generate highly powerful traffic

Promote your products

Access to customer's feedback

Announcing new products or services

Discover your customers' preferences
Review the
examples, highlights, descriptions, illustrations
, and
contact information
for these applications -
Resource One: Blogs

Resource Two: Constant Contact

Resource Three: Delicious

Resource Four: Evernote - note taking and archiving software

Resource Five: Facebook

Resource Six: Igroops - social network

Resource Seven: Infographics - highly visual presentation tool

Resource Eight: Issuu - digital publishing platform

Resource Nine: Linkedin

Resource Ten: Mobile Web Site

Resource Eleven: Oovoo - video chat and instant messaging app

Resource Twelve: Powerpoint

Resource Thirteen: Prezi - cloud-based presentation software

Resource Fourteen: Scribd - web and mobile device online library

Resource Fifteen: Slideshare - document, PDF, video and webinar sharing software

Resource Sixteen: Twitter

Resource Seventeen: Wordle - word cloud generator software
Read more
...